Equip yourself for the journey
Holding strong to our belief that educational change comes from finding the green shoots of innovation, sharing experiences, and collaborating to amplify the impact of initiatives, we have sharpened the Future Schools Alliance membership offering. The FSA-MAP provides an overview of the FSA membership benefits and is designed to guide leaders and orientate their school transformation journey. Intending to support increased collaboration across the Alliance, the 'MAP' reflects the Momentum Series; cultural evolution and innovation framework, a dynamic Alliance of innovative educators as well as a diverse Professional Learning Suite for those keen to accelerate their transformation.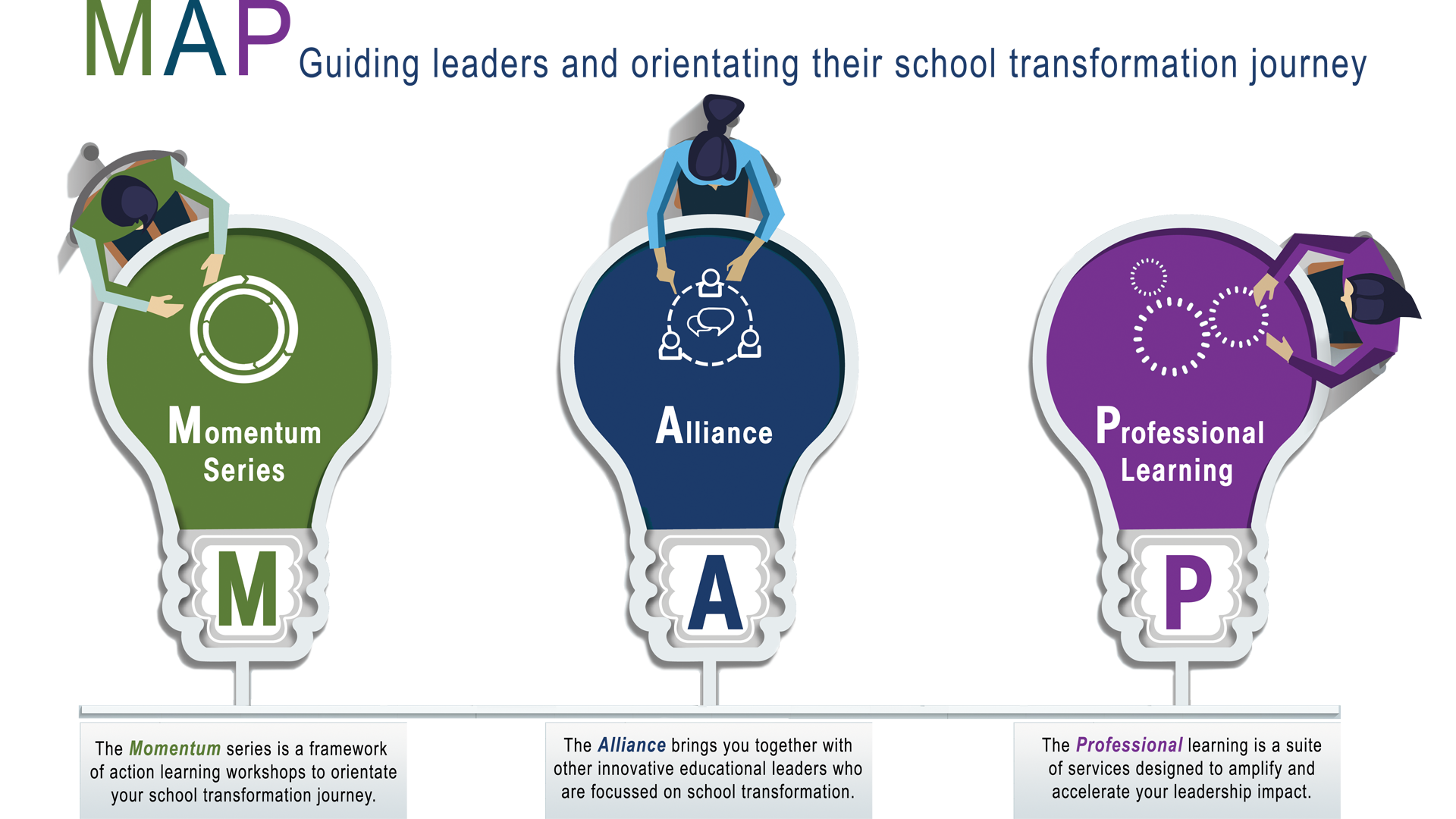 Momentum series:
The Momentum Series is a cultural evolution and innovation framework uniquely designed to support educators who are leading cultural change. Crafted to guide leaders and orientate their change journey, the framework is flexible and honours the unique context of every learning environment. The series allows your team to accelerate momentum; amplify leadership impact, and explore, evolve, and transform your learning community at a speed determined by you.
A collection of twelve action learning modules; informed by research, case studies and practice, the Momentum Series is designed to support leaders to build a flexible and ever evolving Adaptive Culture in their organisation. Each workshop contains specific learnings and suggested actions to assist the leadership group to create and maintain momentum during their transformation journey.
The twelve workshops include;
Igniting Transformation

Committing to the Journey
Aligning Strategy and Purpose
Aspirational Culture
A Culture Snapshot
Pulling Cultural Levers
Adaptive Leaders in Action
Deliberately Developmental Organisations
Proto - vation
Scaling Impact
Cultural Integration
Co-evolving Transformation
Alliance:
FSA school leaders who share common aims and interests have formed a dynamic Alliance committed to working collaboratively towards achieving their shared goal for school transformation, whilst acknowledging their specific context and retaining full autonomy for school decision making.          
Support Includes;
Access to proprietary FSA Resources to support educational innovation.

A directory to contact other FSA School Leaders directly.

Coordinated visits to high demand innovative schools.

Branding and public recognition for your school as a site of educational innovation.

Interactive Webinars with experts at the cutting edge of educational innovation.

Access to exclusive FSA International Study Tours on Educational Innovation.
Professional Learning Suite
Some school leaders will be keen to accelerate their school's transformational journey or seek more tailored support. The FSA's professional services arm, Adaptive Edge provides that extra support.
Services offered by Adaptive Edge include;
Momentum Series: Facilitated workshops delivered onsite or remote to Leadership Groups or whole staff.
Keynotes: The Case for Change/ Over the Educational Horizon/ The Future of Education delivered to staff/ parents/ School Boards.
Innovation Sprints: Onsight walkthroughs with FSA Leaders identifying options for potential innovation.
Critical Friend Analysis: Consultation on proposed changes to policy, procedures or marketing.
Bespoke Consultancy by negotiation.
FSA travels with you to transform your school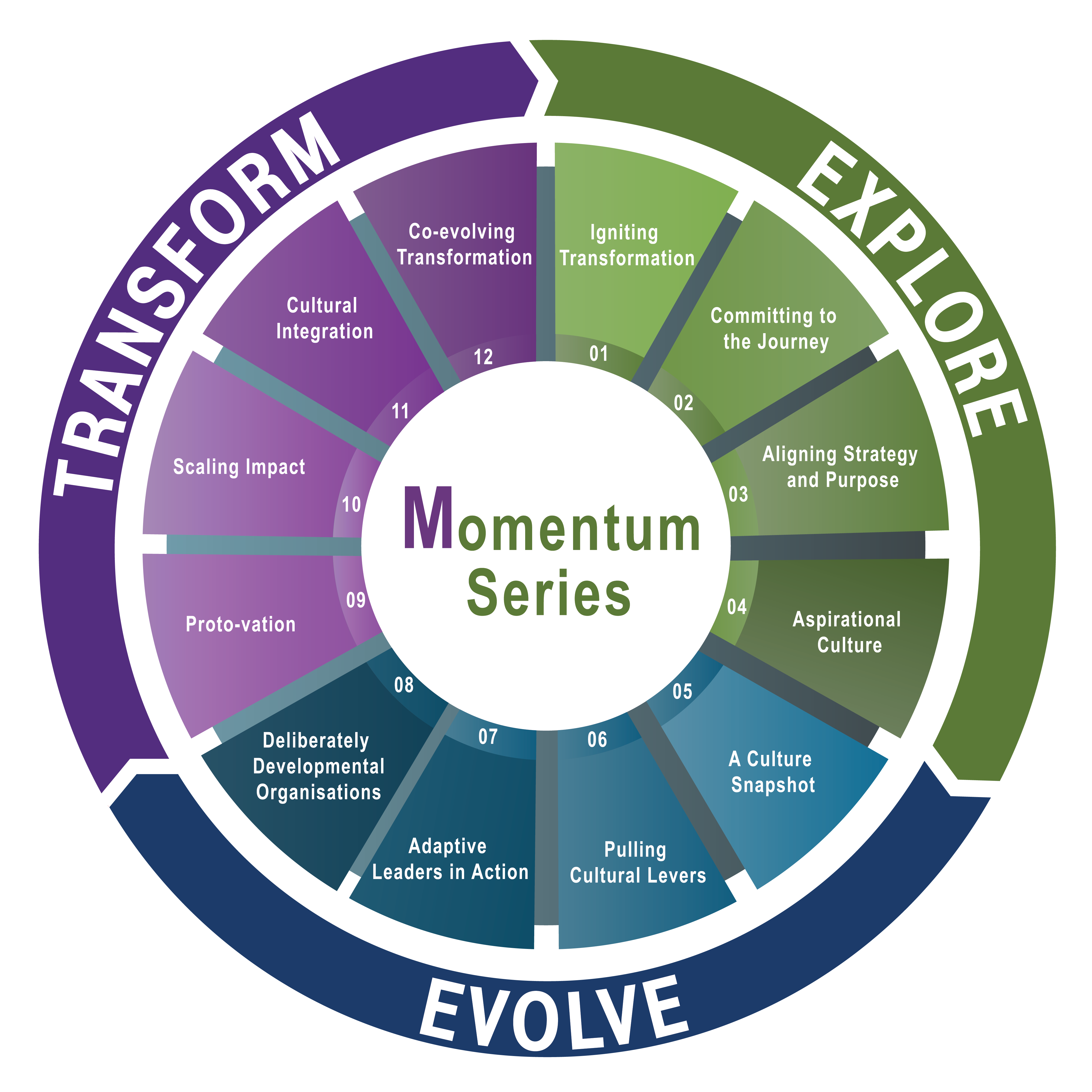 The Momentum Series is a framework of twelve action learning workshops delivered online over a three year period, during which time school leaders learn collaboratively alongside a small group of other FSA leaders to design and build a flexible and ever evolving adaptive culture in their school. Each workshop contains specific learnings and suggested actions to support the leadership group to build and maintain momentum during their unique change journey.
Igniting Transformation
Committing to the journey
Aligning Strategy and purpose
Aspirational Culture
Culture Snapshot
Pulling the Cultural Levers
Adaptive Leaders in Action
Deliberately Developmental Organisations
Proto-vation (Prototyping Innovation)
Scaling Impact
Cultural Integration
Co-evolving Transformation